A couple of years back, I sculpted a bunch of 15mm oni (Japanese ogres) for the Gear Krieg setting. Unfortunately, you can't get three sculpts cast up and produced on their own. A few years later, it dawned on me to expand them into a small range of miniatures based off of Japanese folklore. You can find such things in 28mm, just look at Clan War or Bushido. But in 15mm, the only related things are samurai, ninja, warrior monks, everything to do historical sengoku (Japanese Warring States era). So there's clearly a gap to be filled.
Here are the various yokai (being the term for supernatural creatures in Japan, just like the English term "fair folk" encompasses both good creatures like fairies and nymphs and bad creatures such as goblins, giants and so forth)

Note: the two metal figures are a Finnish soldier from Resistant Rooster and a British artilleryman from Skytrex/Old Glory. Both are there to serve as comparative references in 15/18mm.
Oni
As stated above, these oni were sculpted for an alternate WWII setting, and thus do not wear tiger-pelt loincloths or wield maces. They still are horned, fanged and come in red or blue skin.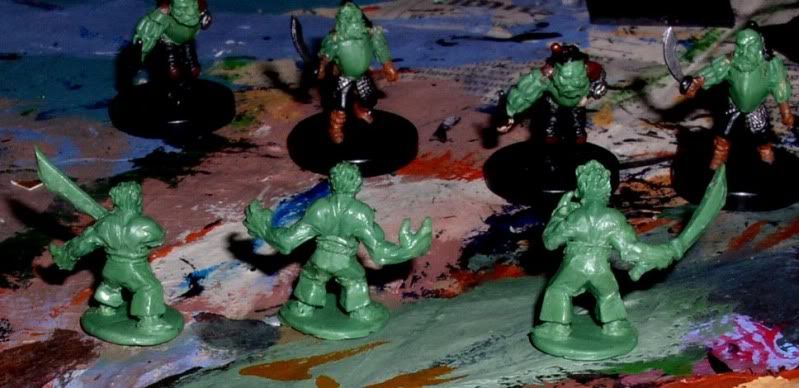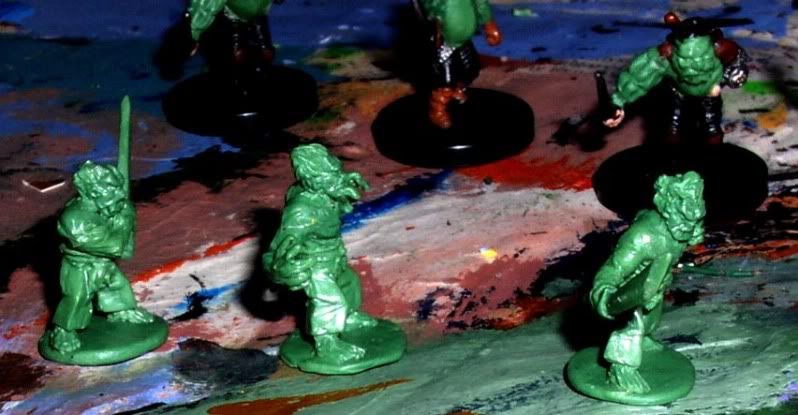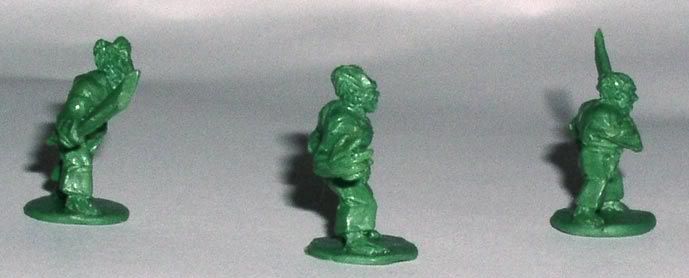 And a picture just to compare with all the newer sculpts. I also sanded down the blades, to make them more uniform.

Kappa
The iconic water tricksters, who look like a mix between a turtle, a monkey and a frog. Kappas often try to drown passersby, so they have been armed with weapons that allow them to subdue rather than kill outright. A common way to defeat a kappa is to trick it into bowing its head, thus emptying the little bowl on its head and rending it powerless.




Tengu
These bird spirits traditionally wear the garb of the yamabushi hermits. They can be either evil spirits, or wise teachers and weapon smiths. While they have been commonly depicted as men with long noses since the 14th century, the tengu here have more prominently avian features. Incidentally, bird-headed tengu are the basis of the Kenku found in D&D.



Goblins
Creatures that actually resemble our perception of goblins are in fact quite obscure. Ko-oni and jaki (or amanjaku) are referred to as small onis, the latter are usually depicted as being trampled upon by the four Heavenly Kings of Buddhism. In the West, yokai such as the tengu, kappa, bakemono (a grouping of all the really weird creatures) are usually translated as goblin. But fantasy role-playing games do like goblins, so I sculpted some, although the faces are inspired more by famous mangaka than the Kev Adams/Bob Olley school of greenskins. Dressed like brigands and ashigaru, they make great swarms.
Bows


Spears




Mysterious Girls from Another World
How many times in anime has a high school student found themselves in another time or another world, destined to save the day thanks to some new-found power? You know the drill...