We've just released a mini-herd of
Struthiomimus
in 15mm scale for our Hell Creek range of dinosaurs. These are the so called "ostrich dinosaurs" or "ostrich mimics," which were closely related to the
Gallimimus
that you may remember from Jurassic Park ("they're flocking this way") but are correctly depicted with feathers, including wing feathers and tail feathers. One pose has a fancy head crest as an adult male, the other two being females.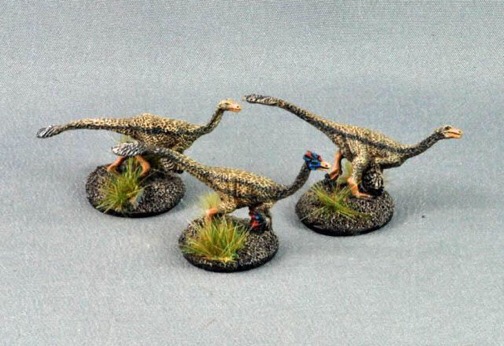 The Hell Creek range is meant to portray all of the major dinosaur species from one time and one place -- Hell Creek is the Late Cretaceous geological formation in Montana which yields
Tyrannosaurus rex
and
Triceratops
. It's meant for fantasy gamers as well as Lost World scenarios, but can be used for straight up dinosaur gaming as well, if there is indeed such a thing!
Available now:
http://khurasanminiatures.tripod.com/15 ... toric.html