Hi all,
I think I've been a bit rubbish sharing new stuff here over the last couple of months, so sorry about that... I just got a bunch of masters back from Griffin and thought you might like to have a look.
The photos are just quick shots of the masters - I'll do better photos when they go on full release. For the moment I've given
Pyre Studios
a small number of sets of masters to sell in the run-up to Christmas, but they'll all get a full release of some sort in the new year.
The first guys are the Dhogu, a race of nomadic mountainous fubarnii who are often seen alongside the Delgon. They have been sculpted with lots of parts specifically to annoy some members of the forum (separate arms and heads), but I've gone for large joint areas and I think this gives lots of potential variation. The head and the left arm are also designed to fit the Yirnak cavalry.
The recent masters I received were some alternative heads and a converted body so you can do a distinctive captain (centre). I also did bow arms and open hands to give another weapon option.
I've also done a couple of new priests for the Delgon. The little hunched over guy on the left is 'NuraSen Gohral', who is a General for the Delgon invasion. The priest with a knife is a 'NuraKira', one of the poor young saps who have the honour of leading the frontline troops. This one has at least had the sense to grab a small knife, but he's still somewhat squishy. I've just noticed that I took the photo at a rubbish angle so you can't really see the knife... sorry!
I've finally done a couple of new models for the Devanu - a big mean grishak and a young Devanu beast-handler. The beast handler is dressed in Grishak hides. The grishak is a lot bigger and spikier than the previous ones and sits on a medium base. I'm working out rules for the Grishak, and will probably include them in the next issue of the Twilight Traveller.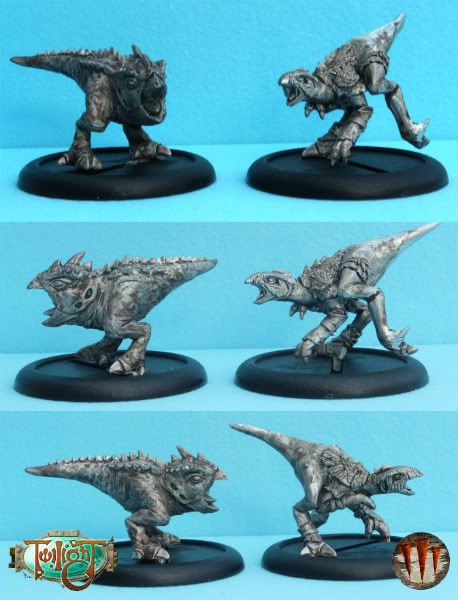 Finally we have the latest sculpts from Mark Craggs (Klute). The first is a civilian. As with the dhogu he's got a separate head and arms and Mark plans to do a bunch of different options so we can have fun with a few different civilian character options. These will eventually come as a set, but for the moment I'm packaging him up with a sprue of instruments and a plate of bugs (mmm, tasty).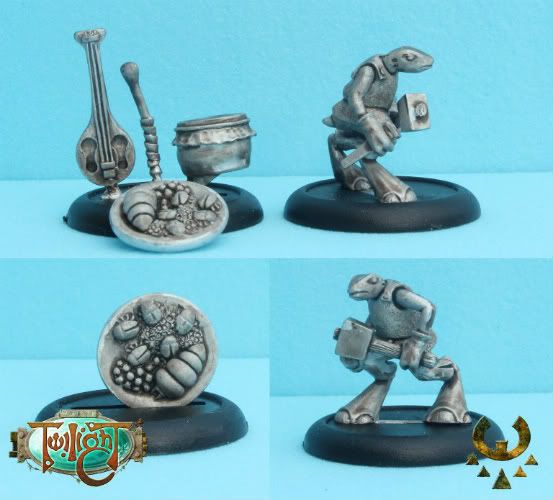 Hope you like them as I'm kinda pleased with how this batch turned out.