Anyone else? Official Spiel below
-----
Hooray! I am super super happy to announce that The Dice Bag Lady / Bad Squiddo Games will be at Vapnartak this Sunday (7th Feb, York Racecourse)
I've managed to squeeze in on a smaller stall than usual so I just wanted to give a heads up to either go through the shop (put a note that it's for the show and I will refund the postage) or email me a list and you can pay on the day, if there's anything you specifically want.
http://thedicebaglady.net/contact
I will be focussing on the BELIEVABLE FEMALE MINIATURES, so I will have good stocks (and display figures) of my own Bad Squiddo range of shieldmaidens, celts, fantasy fighters and lady orcs. As well as the Believable Female Miniatures handpicked selection of properly dressed and excellently made minis from a range of Manufacturers.
http://thedicebaglady.net/bad-squiddo-games-miniatures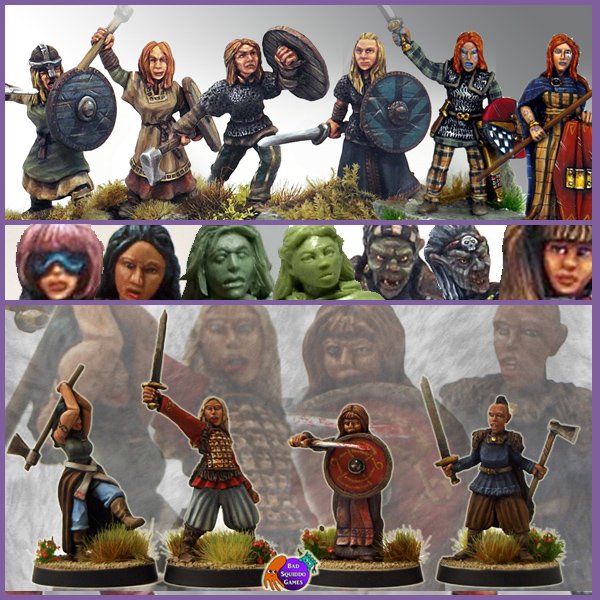 This includes but is not limited to……….. Reaper, Heresy, Statuesque, West Wind, Bombshell, Fenris, On the Lamb, Copplestone, Dark Sword, Crooked Dice, Anvil, Artizan, Discworld, Wargames Factory, DGS, CP, Back Hat, Ironclad and many many more!
http://thedicebaglady.net/female-miniatures/
A great chance to pick up some models from a huge variety of manufacturers, from the larger names, to imported and harder to get names, and smaller companies you may have not previously heard of (but will be hooked on afterwards).
Normally I have a couple of racks of FROSTGRAVE and Frostgrave suitable items, I don't imagine I will have much space for them at this one (haven't done my final plan yet though, I'll squeeze in as much as I can!). As well as all the official shenanigans, I have lots of great accompanying terrain, models and scenics, lots that you will struggle to find elsewhere, and definitely in all the same place!
Check it out on the link below. Alternative monsters, warhounds, ruins…..glitter! Treasure!
http://thedicebaglady.net/frostgrave/
The rack of Ristul's treasure and other scenic (crystals, skulls, PIGGIES!, scatters) from him will be there for sure, and some glittery treasure, which was a bit hit at Crusade last weekend. Selling glitter is definitely one to cross of my "things I didn't think I'd be doing when I grow-ed up" list, in a very very good way! I don't think most wargamers envision buying glitter when they leave the house for a trade show either, but come on over and I'll convince you in a heartbeat why you totally need some.
http://thedicebaglady.net/ristuls-extraordinary-market/
Aside from that, the original strong arm of the business – DICE BAGS. Due to repeated wrist issues I haven't been making any for some time so what I will have is the last of my stock, there is still a nice variety left, and they'll have a couple of quid off them too. I have ONE squiddo, so go scramble for him! What is a Squiddo? Come on over and find out
And as always, the range of BAGGY THE BAG merch, items for a few pound that will make you smile, or make your children smile, or someone you know smile. Smiles for all!
--
That's about it for the ramble, I'd better get back to the show preparations of staring at all my stock and seeing how much I can jenga into the space for you.
Cheers, and hope to see you there! Very excited! It's also my birthday, so all the more reason to come buy lots of things
Annie
The Dice Bag Lady
Bad Squiddo Games
http://thedicebaglady.net