I had the first two or three hundred 2000AD in a box, until me dear mum chucked them away when I was at Uni. Somewhere in Tyneside an ex-binman lives in a palace full of nubile hand-maidens with bejwelled clits, built on the proceeds of the stuff my dear ol' mum used to chuck out when I wasn't looking.
Anyhooo.. I was reading an article about something else, which referred me across to 'Action' which of course led me to 'Hook-Jaw' and finally to 'Shako'. I looked him up, god it must have been tripe - your standard 'Giant Polar-bear that swallowed a capsule of top-secret nerve toxin and is pursued by the CIA while eating people a lot' story with art by whoever wandered in off the street and brought his own crayons. Ace.
What other early 2000ad stories have I forgotten about because they never became cool? 'Flesh' was borderline good, like that but worse - I remember a colony space-ship that crashed on a world where everthing was hostile - 'DeathWorld' with more casualties, obviously. any other stinkers?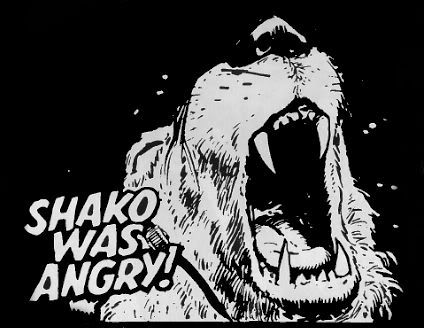 Pat
Edit, fuck, how could I forget 'Fiends of the Eastern Front' ???? That was both shite and ace at the same time.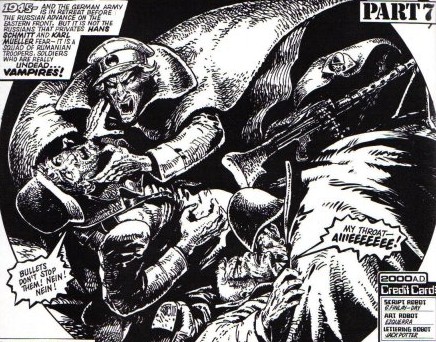 Nein! Nein! Nein! I doubt the Rozzers will be of much assistance to you Fritz!
Pat